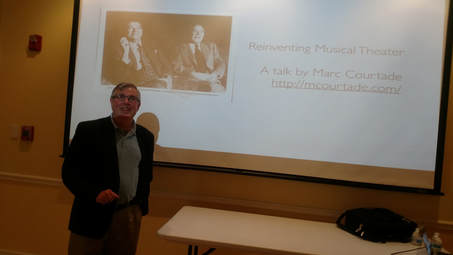 Lapham Community Center, New Canaan, Ct, July 12, 2017
Rodgers and Hammerstein

Happy to make my debut in Connecticut at Lapham Community Center in New Canaan with my calling card lecture, The Rodgers and Hammerstein Era. It is easy to be enthusiastic when you speak about a topic you love to an attentive and appreciative audience. Thanks to my friend Jayne Dutil for introducing me to this terrific group of people. It was an enchanted evening!
---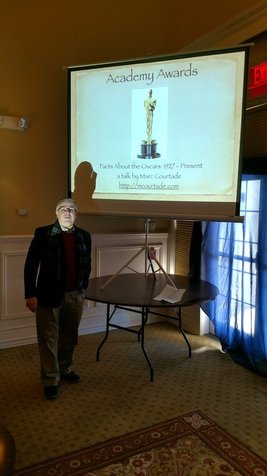 Meadowbrook Pointe, February 25, 2017
Academy Awards Brunch
​
I had the pleasure of speaking about the Academy Award on Sunday, February 25, 2017 at Meadowbrook Pointe. The entertainment committee did themselves proud and planned a delightful brunch celebrating the upcoming awards. I was impressed by the number of people who attended and was grateful for their attention and interest. I always appreciate being fed! It was a lovely way to start the day and get into the frame of mind for the awards that evening.

The whole brunch went without a hitch, more than we can say about the awards themselves. I enjoyed myself immensely, and would be very happy to come back and continue to share my knowledge to a very appreciative and well informed group. And, again, kudos to the committee who put a delightful event together!
​
---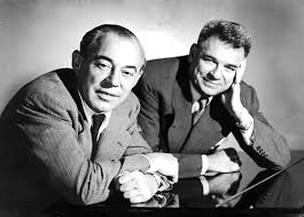 Northport Library, May 5, 2016
Rodgers and Hammerstein
I am delighted to debut at the Northport Library on Thursday, May 5 at 2pm speaking on
The Rodgers and Hammerstein Era: Reinventing Musical Theater
. This is a favorite topic of mine, and a perfect calling card for a new library. Information can be found on the Library website or here:
http://patch.com/new-york/northport/library-save-date-new-lecture-series-0
.
---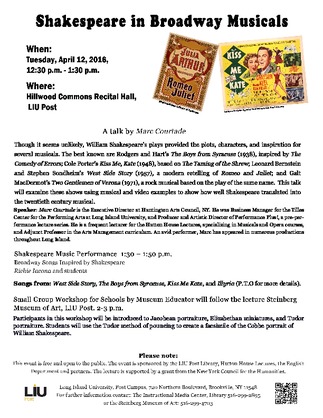 ​Shakespeare in Broadway Musicals
Shakespeare in Films
I will be returning to LIU to be part of the
Shakespeare Forever
commemoration of the 400th Anniversary of the death of William Shakespeare. On Tuesday, April 12 I will present a talk in Hillwood Commons Recital Hall on
Shakespeare in Broadway Musical
. The talk is free and open to the general public. Information can be found here:
http://liu.cwp.libguides.com/c.php?g=397213&p=2776276
.
I will also be speaking at Great Neck Library as part of the commemoration on Monday, April 18 at 2pm on
Shakespeare in Films
. This talk will present a history of Hollywood films based on the works of William Shakespeare. Information on this talk can be found here:
http://liu.cwp.libguides.com/c.php?g=397213&p=2787598
---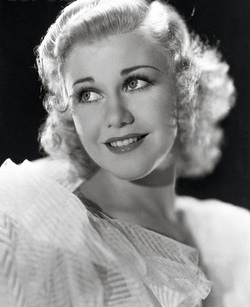 Ginger Rogers and Mickey Rooney at 92Y
I am happy to be invited back to speak at 92Y in 2016. On Tuesday, January 26 at noon, I will do one of my favorite talks,
Ginger Rogers: Backwards and in High Heels
. There will be clips of her with Fred Astaire, but many more examples celebrating her overall career: actress, comedienne, singer and. dancer. Next up will be another entertainment giant,
The Immortal Mickey Rooney
on Tuesday, February 23 at noon. Links to both talks are below. I hope to see some of my NYC friends at these blockbusters.
http://www.92y.org/Event/On-Ginger-Rogers.aspx
https://www.92y.org/Event/Mickey-Rooney.aspx
---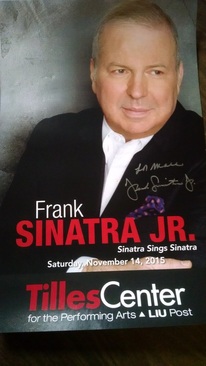 Sinatra!

I have really enjoyed lecturing on Frank Sinatra this week, My visit to Kaplen JCC on the Palisades for their JCC University went very well. The audience for Sinatra in Film on Thursday, November 12 was attentive and very complimentary. On Saturday evening, November 14 at Tilles Center, I spoke before Sinatra Sings Sinatra, a performance by Frank Sinatra Jr. Again, the audience was very very pleased to hear some classic singing by Frank Sinatra before a terrific memorial concert. I am delighted to have a poster signed by Frank Jr. to commemorate the evening.

Listening to how Sinatra phrases a song, his innate musicality and his flawless breath control remind us of why he is still a major star, and regarded as one of the finest vocalists of the 20th Century. The Sinatra Centennial has been a milestone event in the entertainment world in 2015, and I have been very fortunate to be a part of it by remembering the man, his music and his films.
---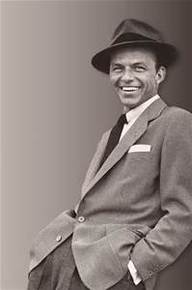 The Frank Sinatra Centennial
November 12, 2015 at Kaplen JCC on the Palisades, Tenafly, NJ
November 14, 21015 at Tilles Center, Brookville, NY
More talks on Frank Sinatra to celebrate his centennial.
I am returning to the Kaplen JCC on the Palisades for the JCC University on November 12 at 1pm to present
Sinatra in Films
. Information can be found on the JCC website or:
http://www.njartsmaven.com/2015/09/jcc-u-now-registering-for-fall-term.html
.
I will also be the the speaker for the Performance PLUS! talk at TIlles Center on November 14 at 6:30pm prior to the performance by Frank Sinatra Jr. My talk will be called
The Sinatra Legacy,
examining why Frank Sinatra is still a major star.
---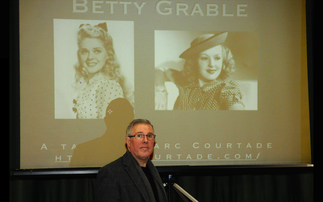 East Hills Seniors, October 18, 2015
Alice Faye & Betty Grable:
Golden Girls of Twentieth Century Fox

Another delightful day at the East Hills Seniors brunch on October 16, 2015. It was a chilly day, but a warm reception for my presentation on Alice Faye and Betty Grable. It was great to see many old friends, have a pleasant brunch and give a talk I love doing to a very attentive audience.


---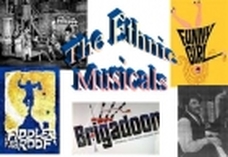 The Louis and Mildred Resnick Institute For the Study of Modern Jewish LifeThe Annual Louis and Mildred Resnick Series
Jews and Theatre
SUNY New Platz, September 30, 2015
Excited about lecturing at the Louis and Mildred Resnick Institute for the Study of Modern Jewish Life at SUNY New Paltz on September 30, 2015 at 7:30pm. I will present my talk
The Ethnic Musicals: Assimilation and Integration
as part of the Annual Fall Louis and Mildred Resnick Series. Information about the series is found here:
http://www.newpaltz.edu/resnickinstitute/events.html
---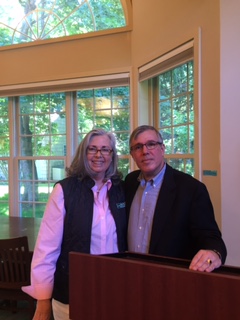 At the Quogue Library, June 8, 2015
The Rodgers and Hammerstein Era


With Kathleen Johnson, Program Coordinator at Quogue Library after my last lecture for the New York Council for the Humanities. The library has a beautiful room for presentations, and it was a perfect Sunday afternoon in June. I was impressed with how knowledgable and attentive the audience was, and I look forward to coming back soon!


---

---

---

At the Floral Park Chapter of AARP on April 20, 2015
The Rodgers and Hammerstein Era

From newspapers in Floral Park and New Hyde Park
Mary Martin & Marc Courtade:
Rodgers & Hammerstein may have had Mary Martin in South Pacific, but they also have Mary Martin here in Floral Park.
Mary is shown with Council for the Humanities Speaker Marc Courtade.
---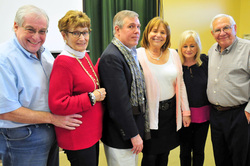 At Village of East Hills Seniors on October 26, 2014
Frank Sinatra in Film

There was a terrific turnout for the Village of East Hills Senior Brunch on Sunday, October 26, 2014 for a combination of Frank Sinatra and brunch on a beautiful fall day. There were many old friends there, and it was nice to make some new ones as well. There is a very nice article on the event about halfway down the page:
http://www.villageofeasthills.org/sac/
I have been invited back on October 18, 2015 to speak on Alice Faye and Betty Grable. A brunch, good audience, and speaking about two great performers...I am looking forward to it very much!
---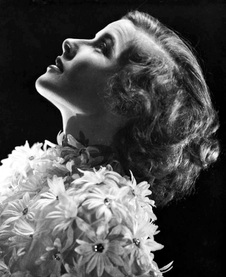 Jericho Library, August 14, 2014Great Kate: Katharine Hepburn
Jericho Library is my home base. I am there every month and have a very loyal following. One of the most memorable talks was on Katharine Hepburn:
http://www.syossetjerichotribune.com/2014/08/14/the-great-kate-in-jericho/
My next lecture at Jericho Library was, of course, Spencer Tracy: The One and Only on September 19, 2014.
---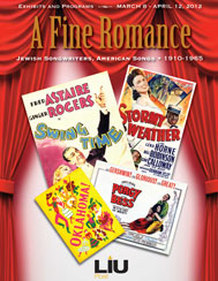 ---

---